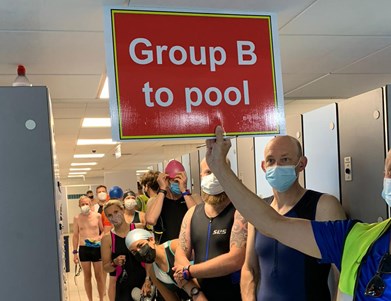 The race is permitted by the British Triathlon Federation, which ensures that the the event is Covid secure and in line with current government guidance. 
The 2021 race ran successfully before Covid restrictions were lifted by the government. Start waves were carefully staggered to ensure there weren't too many people inside the building at any one time. Competitors wore masks indoors on their way to the start line, and we had plenty of social distancing both in the pool and in transition without affecting the race seriously.
The main change was that transition was untimed (to allow the one-way system to work smoothly and to ensure people were able to keep their distance) - a change that many people preferred! We expect that this is a worst case for any 2022 race.
We will continue to monitor official advice and keep an eye on current Covid data. We will confirm the final changes required by current regulations in May.